Savic
Hamster Heaven Metro Small Animal Habitat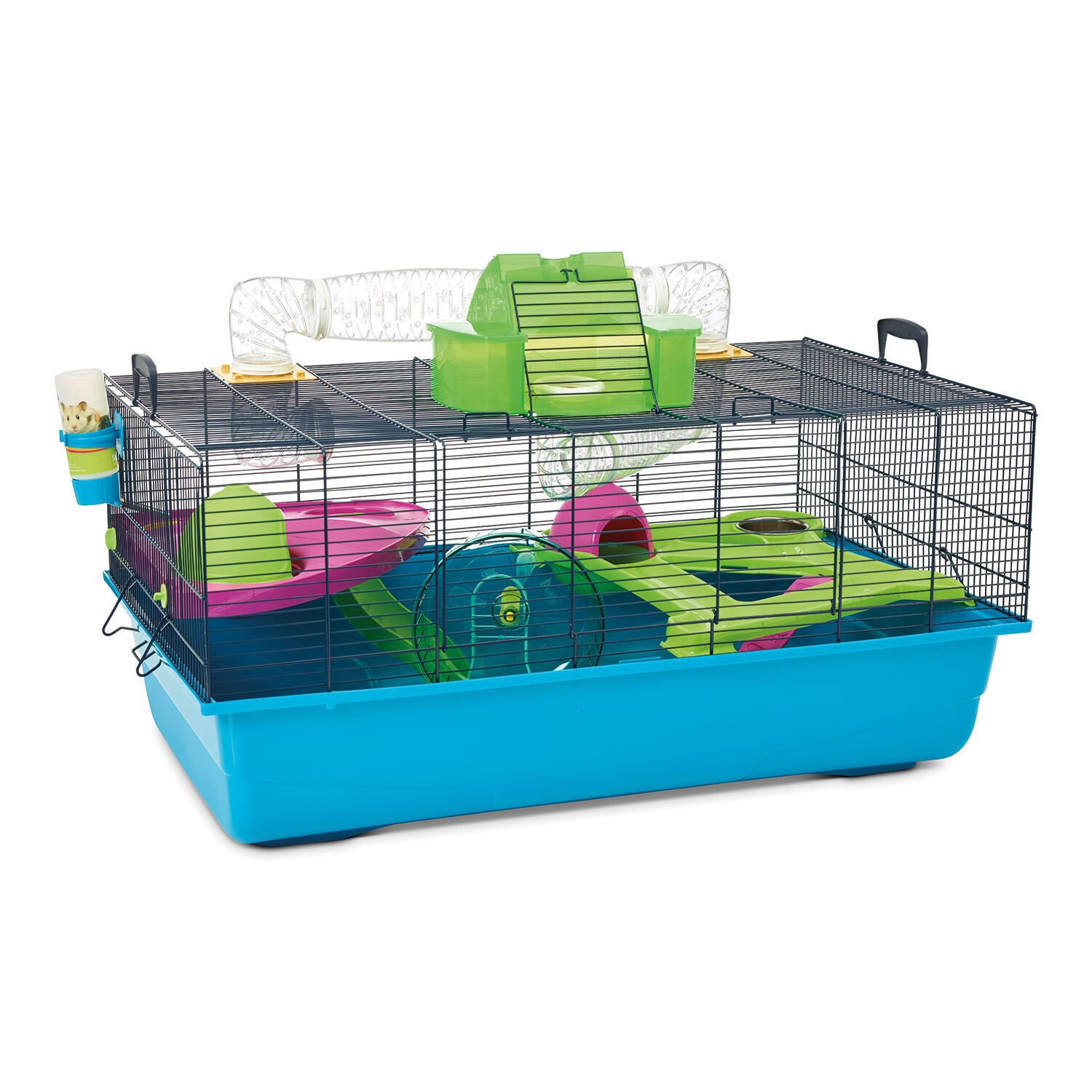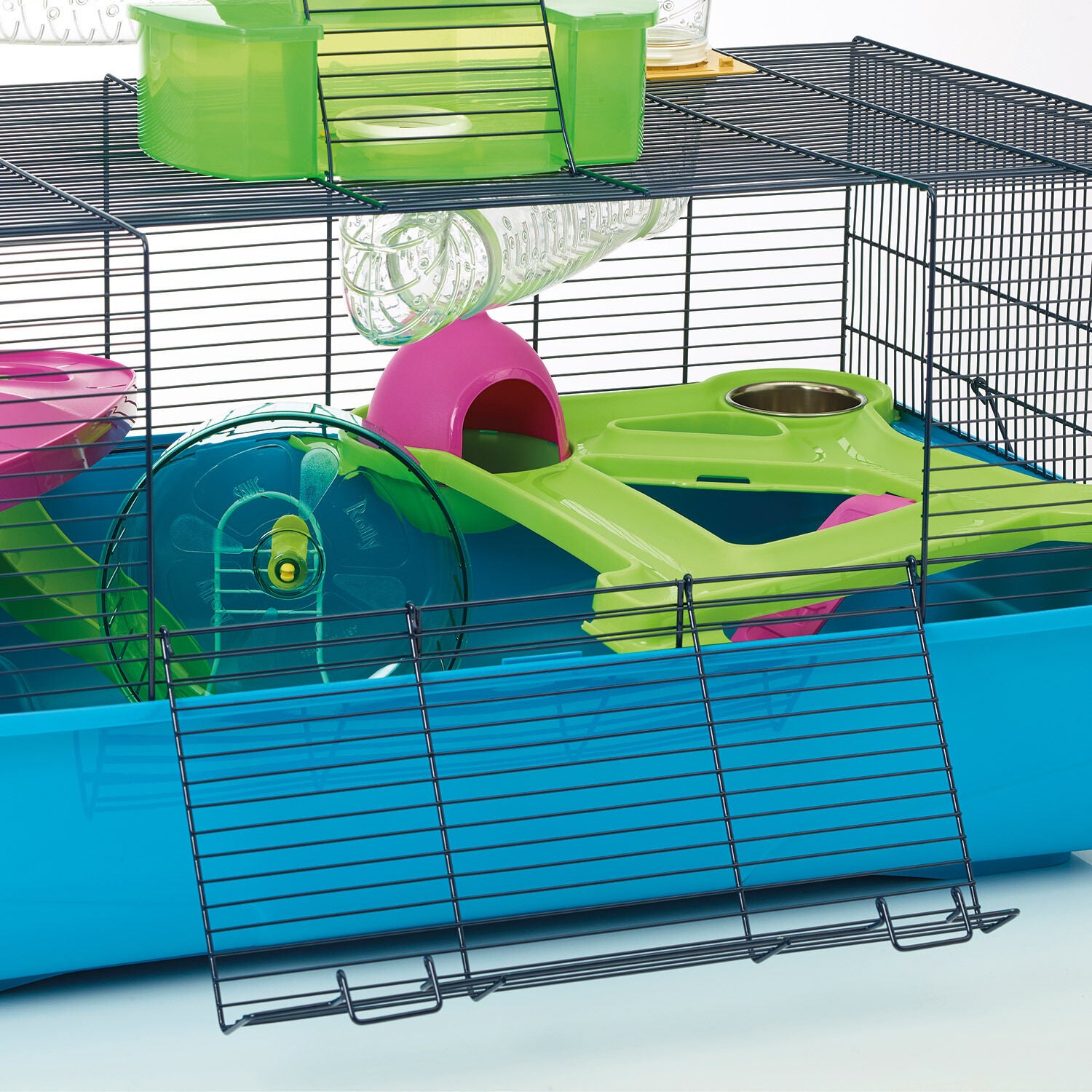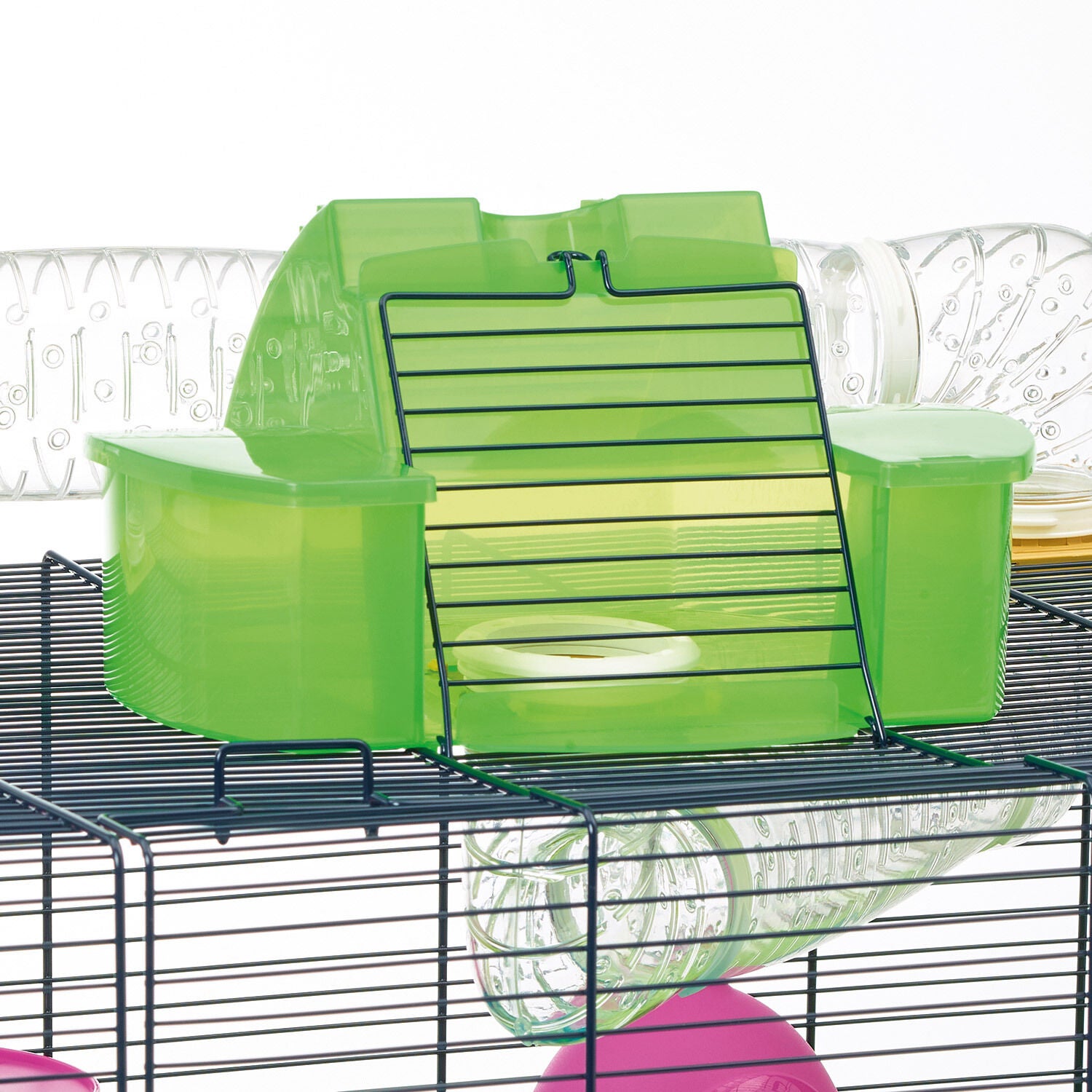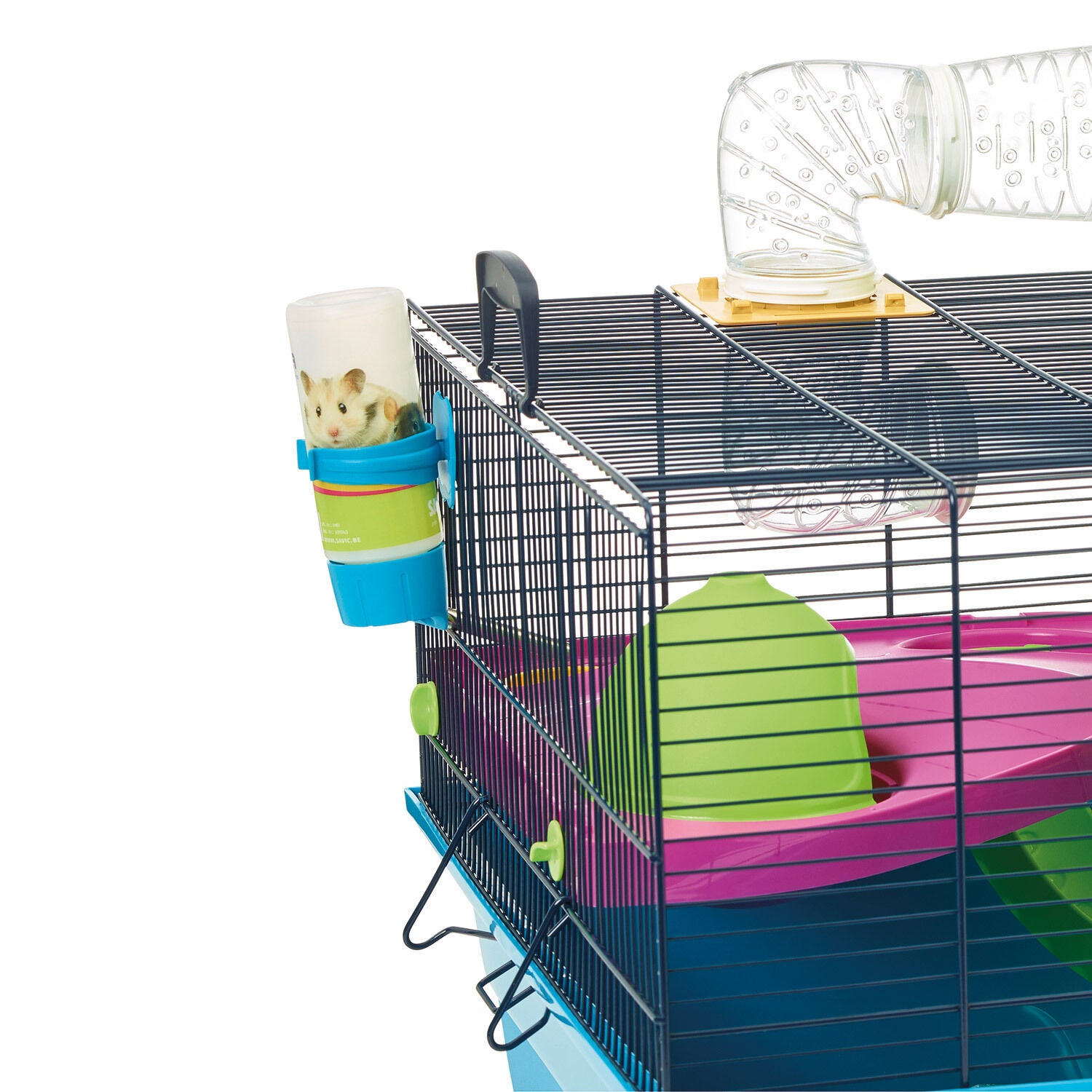 FREE shipping on orders over $49
---
Product Description
The Hamster Heaven Metro cage sees that you have built a heavenly home for your hamster. This cage has everything a hamster could wish for, the large base surface ensures lots of frolicking and tunnelling fun. It comes with two raised platforms, two houses, two feeding bowls, drinking bottle, running wheel, exterior tunnel with ventilation holes and a hamster toilet. On top of the cage there is what you might call a penthouse that offers your hamster a wonderful vantage point. The handles on either side make moving the cage an easy task. The large door gives you easy access to feed or pet your hamster. Dimensions: 31.5" W x 19.7" H
---
---
Product Description
The Hamster Heaven Metro cage sees that you have built a heavenly home for your hamster. This cage has everything a hamster could wish for, the large base surface ensures lots of frolicking and tunnelling fun. It comes with two raised platforms, two houses, two feeding bowls, drinking bottle, running wheel, exterior tunnel with ventilation holes and a hamster toilet. On top of the cage there is what you might call a penthouse that offers your hamster a wonderful vantage point. The handles on either side make moving the cage an easy task. The large door gives you easy access to feed or pet your hamster. Dimensions: 31.5" W x 19.7" H
Rated

2

out of

5
by
SusanT
from
Large area
Ordered one online. When it was delivered, the bottom had a chunk out of it. I found it and glued it in place. Some of the tubes were missing. I contacted the company that makes it and they sent another one. The bottom was broken on it also. The food bowls are on the other side of the pen, which is very hard to reach. The tubes are hard to put together. He brought bedding up top and got stuck in the tube. I took the tube off and can't get it back together. The water bottle has to be attached with the wire, because the plastic holder will not keep it in place. I am looking to replace it, but good, easy to assemble, and easy to clean cage is difficult to find.
Date published: 2020-10-17
Rated

4

out of

5
by
Paratina
from
Really big, but a couple issues
I bought 2 of these cages, one for my daughter's hamster and one for my son's. The cages are very large 31.5 in x 19 x 15 to top of wire cage (19 to top of green hammy house). Highly recommend if you are after lots of floor space for your hammy to roam. Sits perfectly on top of my kids dressers. It has 2 platforms to climb up to and tubes up to hammy house on top. My daughters hammy is still quite small and unable to get up the ramp to the upper levels because they are a bit steep so I wouldn't recommend for a robo or dwarf hammy. My son's cage has been great so far. My daughter's has had some issues though. First of all it was missing a tube. I did call the company and they are sending me one. 2 days after purchase the water bottle dumped all the water into the cage. We believe the ball got stuck open. 4 days after purchase the exercise wheel broke. We still love the cage and the construction of the cage itself is very sturdy. Just be forewarned you may have to purchase a couple extras right off.
Date published: 2020-08-25
Rated

5

out of

5
by
Brianna
from
Amazing Cage
I bought this cage about a month ago for my Russian dwarf hamster. At first, I was worried that the 9.5 MM bar spacing would allow my hamster to escape but once I got the cage I realized that my hamster definitely couldn't escape it. The pan is 6 inches deep so this will allow your hamster to properly burrow. The water bottle is leaky so I used my old one though. The wheel is about 7.5 inches but it squeaks really loud, however I lubricated it with olive oil and it sounds like a silent spinner. The wheel is a great dwarf size but don't use it for a Syrian. I will be upgrading my dwarfs wheel to a 9 inch though, but I love this cage. One of the best hamster cages on the market! Never use a critter trail or any hamster "starter kit". Go for this and all you should need to buy is a water bottle, wheel, bedding, chews, and food. This cage does come with a sand bath as well. You may want to get a larger one though, especially for a Syrian. I did not have to assemble this cage because I got it from a local pet supermarket and it was already assembled! Sorry for the long review but I LOVE THIS CAGE!! Dimensions: 31x19 inches 620 square inches 6 inch pan depth 7.5 inch wheel Also wanted to add that the ladder and slide to the levels is very steep and your hamster may not use it. Personally I don't use the tubes or levels. The main reason is the slide to one of the levels broke before I could get inside but I give this 5 stars because I bought the cage for the floor space anyway!
Date published: 2020-06-16
Rated

5

out of

5
by
Kleigh
from
Great cage
I got this a couple days ago! And it was eaay to assemble. It's perfect for dwarf hamsters. Way better than the small critter trails thats not suitable for any hamster breeds.
Date published: 2020-05-04
Rated

2

out of

5
by
Mquinn97
from
Nice cage but ...
We bought this cage a few months ago for my daughter's hamster. It's a bit complex to put together but overall it's pretty nice. Very large with lots of areas for a hamster to chill out. Ours spends most of his time either sleeping in the tubes or at the little hut on the very top. The problem is we have cats. And the cats have managed to knock the tubes off and break them and the little door to the hut at the top has come open several times. So we've had to come up with some creative solutions to keep the hamster from getting out. He's gotten out three times now and we're very frustrated and wanting to find a way to close off the access to the tubes at the top and the little hut. It's just getting too scary. We love our little dude and don't want anything to happen to him. I'm hoping I can find a cage top that will fit on this without the tubes and the opening for the hut.
Date published: 2021-03-28
Rated

5

out of

5
by
Class Pet
from
Great home for a new pet
I bought this cage for a class pet hamster. I'm new to this pet but from what I've researched about what I need, this hamster home will work nicely. Also, this was by far the best price I found online or in nearby stores. I put it together by myself with the help of written directions and the video online. Not difficult at all. I think we will have a happy hamster!
Date published: 2022-08-13
Rated

3

out of

5
by
KatieB78
from
Cool cage - but not for dwarf hamster
We purchased this cage as a replacement for a much smaller cage. Came highly recommended from the store employee. We agreed at the time, but since we brought it home, we realize that it's MUCH too big for our dwarf hamster to enjoy. It's nearly impossible for it to crawl into the tubes. Awesome feature... but not for our tiny guy.
Date published: 2020-09-18
Rated

5

out of

5
by
Callie
from
Big! Gerbils love it!
I have 3 gerbils and this is the perfect size for all of them. Only don't side of this was the instructions don't have any words, just photos so it was a little hard to figure out the steps to put together. Other then that it's awesome
Date published: 2021-07-07
bvseo_sdk, dw_cartridge, 18.2.0, p_sdk_3.2.0
CLOUD, getReviews, 8ms
reviews, product