12 Tips for Keeping Your Dog Safe During the Holidays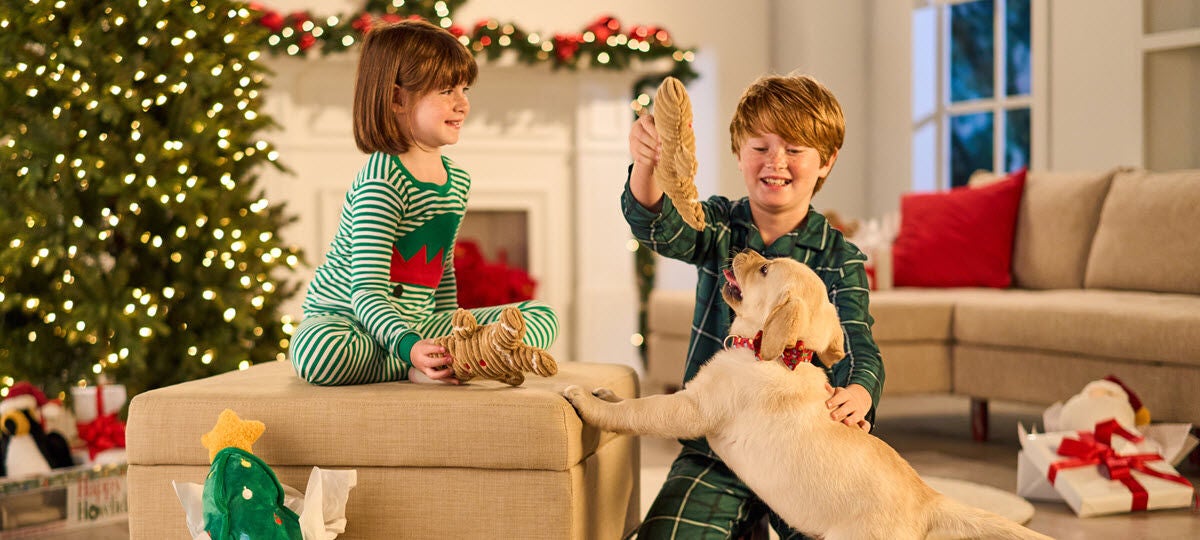 Nobody loves the holidays more than your dog. From snow days and holiday dog toys to puppy playdates and big feasts, your furry friend's tail is probably wagging already!
To help them have even more fun when the season changes, it's essential to brush up on pet safety. After all, the holiday season comes with decorations, treats and visitors your pets might not be used to — so as a dog owner, you need to know what to look out for.
Check out our favorite tips for keeping your dog safe during the holidays!
Holiday Dog Food: Do's and Don'ts
No matter what winter festivities you celebrate, food is probably at the center of everyone's attention. Let's take a look at a few holiday safety tips to help keep your dog happy and healthy during the season of feasts:
Get Smart About Chocolate
You've probably heard all your life that chocolate is toxic to dogs. However, according to McGill University, the amount and type of chocolate makes a difference, as does the weight of your dog. This means that, although it can make pets sick, chocolate might not be fatal if accidentally ingested — but it should never be offered purposefully. (McGill University also notes that cats are especially sensitive to chocolate, so watch them carefully as well.)
Keep an Eye on Alcoholic Beverages
According to the American Society for the Prevention of Cruelty to Animals, alcoholic beverages aren't good for pets. If these drinks spice up your holiday celebrations, just make sure to keep a close eye on bottles and cups — and if your dog ingests alcohol, call a vet right away.
The Humane Society of the United States explains that macadamia nuts, walnuts and other nut varieties may be dangerous for your dog. Because these foods show up in a variety of human treats, it's safest not to share food with your dog.
Although most of these holiday safety tips have been about taking food off the menu, don't worry — there are plenty of safe ways to make dog food exciting for the festivities. For example, you could try adding holiday dog treats to your pooch's bowl or even adding special snacks like raw meat or eggs.
Menorahs, ornaments, and even a traditional Christmas tree — are all important parts of many holiday celebrations. As a dog owner, it's up to you to make sure your pooch doesn't see these decorations as food. Brush up on these pet safety tips:
Watch the tinsel: Shiny and eye-catching, tinsel looks like a toy to most pets — especially your dog. According to Pet MD, tinsel can get stuck in the intestinal tract if swallowed, so it might be best to use alternative decorations.
Be careful with candles: Candles are an important part of many holiday celebrations. Just make sure your dog can't reach them and won't knock them over with that happily wagging tail.
Know your pooch: Is your dog likely to view ornaments as toys? If so, you'll need to take extra precautions — like only decorating the top of your tree to keep ornaments out of reach.
Be wary of wires: Although cats might be more likely to paw at a Christmas tree's electrical wires, your dog might get curious, too. This can lead to electrocution, so try hiding wires under a tree skirt or putting them out of reach with a wire clip.
Staying Safe When Family and Pets Visit
Family and friends love to gather around the Christmas tree or share a holiday feast. That can be exciting for your dog — as long as you have pet safety precautions in place. Here are a few ideas:
Talk to visitors: If your friends and family don't have pets of their own, they may not know how to interact with your pooch. Tell them which foods are toxic to dogs, how to play gently and how to tell when your furry friend needs a break.
Watch little ones: Some kids play rough, especially when they're hopped up on all that holiday sugar. Help children learn the best ways to play — for example, a game of fetch, which limits tugging and wrestling that could hurt your dog or the kid. You should also keep a close eye on your dog, especially if they're not used to having children around; many pets can get spooked or feel threatened by those little hands.
Prepare for puppy playdates: Pets are part of the family, so don't be surprised if your loved ones bring their own furry friends for a visit. To keep everyone safe, make sure all pets are up to date on their vaccinations and that there are no signs of aggression or territorial behavior.
Keep treats on hand: Visitors often want to say hello to your pooch by offering a snack. It's best to keep dog treats readily available — that way, people don't bring unfamiliar food or treats from home, which could upset your dog's stomach.
Make the Holidays Even Happier for Your Furry Friend
Pet safety is a big part of the holidays, especially for a dog owner like you. However, it's not the only dog health topic you'll need to focus on during the season. After all, most pooches naturally get fluffier when the weather cools down — so you also need to stock up on dog supplies like brushes and combs.
While you're focusing on keeping pets healthy, don't forget to make them happy, too. Here at Pet Supermarket, we have everything you need to brighten up your dog's holiday, from food and treats to brand-new toys.
Stop by your local Pet Supermarket to see how we can help you get ready for the most wonderful time of the year!
It's never too early to start Pawliday shopping. From pets to pet lovers, Pet Supermarket has a gift for everyone on your list!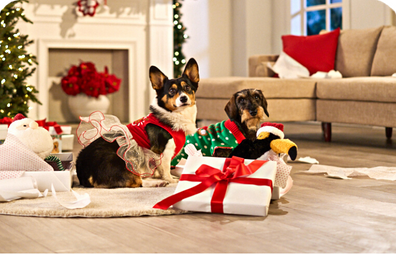 Is your dog first on your holiday shopping list? Here are a few of our favorite holiday dog toys to help your furry friend spread love and joy this season!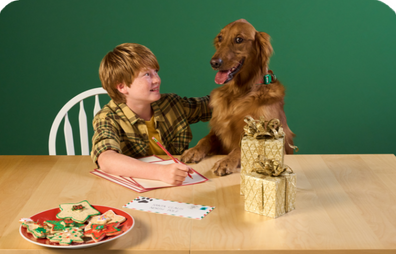 Holiday dog treats are a great way to make the season special for your furry friend. Here are a few of our favorites (and some other fun snack ideas, too).