Holiday Dog Treats Your Pooch Will Love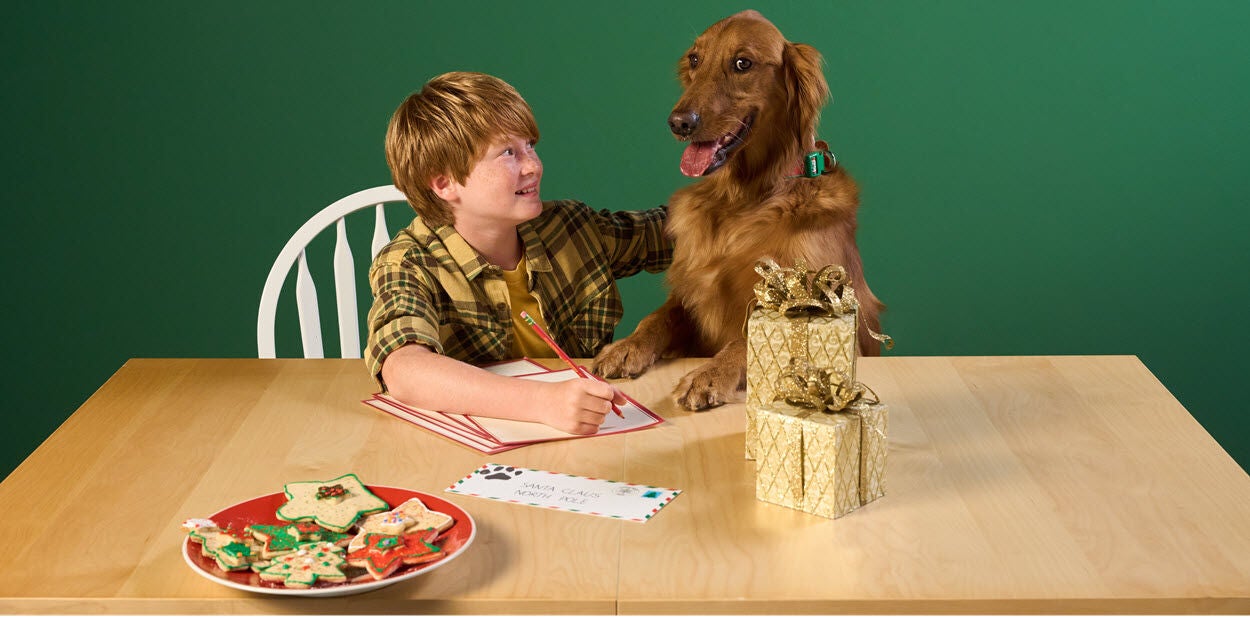 The holiday season is a great time for treats — and not just gingerbread cookies, fudge and other human snacks. There are also plenty of Christmas dog treats on the menu. After all, dogs are part of the family, which means they deserve a few delicious snacks of their own.
Here's everything you need to know about holiday dog treats so you can make the season merry and bright for your canine companion!
What to Look For in Holiday Dog Treats
Unlike your favorite cookie recipe, you can't exactly taste-test Christmas dog treats before serving them up to your furry friend. What's a pet parent to do?
The good news is that choosing a tasty treat for dogs gets a lot easier when you know what to look for. Here are a few top tips your pet will appreciate:
Choose flavors your pooch loves: Although your holiday treats probably smell like peanut butter, gingerbread or chocolate, Christmas cookies for dogs don't have to play by the same rules. Look for flavors like chicken, pumpkin, bacon and cheese to help your pet celebrate the most wonderful time of the year.
Pay attention to calories: There's no harm in eating a little more during the holiday season, but as a pet owner, it's up to you to make sure your dog doesn't snack too much. Choose smaller dog treats and cookie options and help balance your pet's diet with reduced-calorie dog food.
Stay away from rawhide: According to the American Kennel Club (AKC), rawhide chews aren't easy for dogs to digest. They can also break off in large chunks and cause choking or intestinal blockages.
Holiday Treats: Making Holiday Dinners
Holiday dog treats are a great way to make the whole season special for your pooch, but there's another way to celebrate: Making special dinners for your dog throughout the winter. After all, one of the best parts about the end of the year is enjoying feasts with friends — so no matter what you celebrate, you can cook up fun meals to keep your pooch warm and happy when the chill sets in.
Here are a few ideas to help make dog food more exciting for cold days and big winter celebrations like Christmas dinner:
Try raw food: Raw food diets (not to be confused with rawhide) are popular among many pet owners. They involve uncooked meat, eggs and other ingredients that make dogs feel more like their wild counterparts. If your pet doesn't usually eat raw food, a few bites of raw hamburger or a freshly cracked egg could be a tasty treat.
Skip the scraps: It's tempting to slip your dog a snack under the table, but don't give into those puppy-dog eyes. Human food isn't good for dogs — so skip the scraps and focus on making a special holiday dog dinner instead.
Add a dog treat or two: If you've already chosen your favorite holiday dog treats, you can add a few to your pooch's dinner like a garnish. (Hint: Most dogs enjoy a dollop of peanut butter or pumpkin, too!)
Don't make big changes: Although your pooch will enjoy a special dinner on the holidays, it's important to go back to their regular diet as soon as possible. Quickly altering a dog's food habits can make them sick, according to the AKC — so limit the feasts to special occasions.
Can You Make Your Own Holiday Dog Treats?
When you think about Christmas cookies and other holiday treats, chances are you imagine a fun moment spent in the kitchen with your family. While dogs might not be able to pull on an apron, they can be great inspiration for a recipe or two. Here's what to know about making your own Christmas dog treats:
Look up a dog-friendly recipe: A recipe is a great way to make sure you stick to foods that are safe for dogs. Plus, if you're not exactly a prodigy in the kitchen, a recipe gives you simple steps to follow so you can focus on having fun. Just remember to prepare with tools like your food processor, cookie cutter, parchment paper and a large bowl or two.
Use healthy ingredients: Christmas treats might be the perfect excuse for humans to snack on sugar, but dogs will be perfectly happy with healthier ingredients. As long as the cookie tastes like creamy peanut butter, delicious sweet potatoes or other dog-friendly flavors and treats, your pooch won't be disappointed.
Stay away from food coloring: Although the FDA has approved many kinds of food coloring for use in human meals, there's less research on whether those additives are safe for dogs. The good news is that, because your pet can't see colors in the same way you do, they won't mind if you skip the food coloring.
Remember to clean up: Some DIY dog treats include ingredients you wouldn't want to mix with your own meals, like raw meat and eggs. Make sure to clean up the kitchen after making any snacks for your dog!
Gear Up for the Holiday Season at Pet Supermarket
If you're excited about winter celebrations, just think about how dogs feel. With so many new toys, snow days and Christmas dog treats just around the corner, they'll be wagging their tails all season long — especially if you take a few extra steps to keep dogs safe during the holidays.
In fact, the only way to make them even happier is to involve them in all your celebrations — and that means having plenty of holiday treats on hand.
As winter gets closer, we're here to help you make a list and check it twice. Stop by your local Pet Supermarket for all the toys, treats and holiday excitement your pet's been hoping for.
It's never too early to start Pawliday shopping. From pets to pet lovers, Pet Supermarket has a gift for everyone on your list!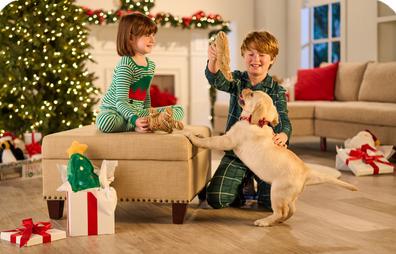 12 Tips for Keeping Your Dog Safe During the Holidays
Pull out the decorations — the holiday season is upon us! Check out these tips for keeping your dog safe during the holidays (and all year round, too).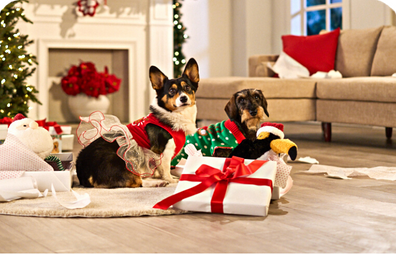 Is your dog first on your holiday shopping list? Here are a few of our favorite holiday dog toys to help your furry friend spread love and joy this season!