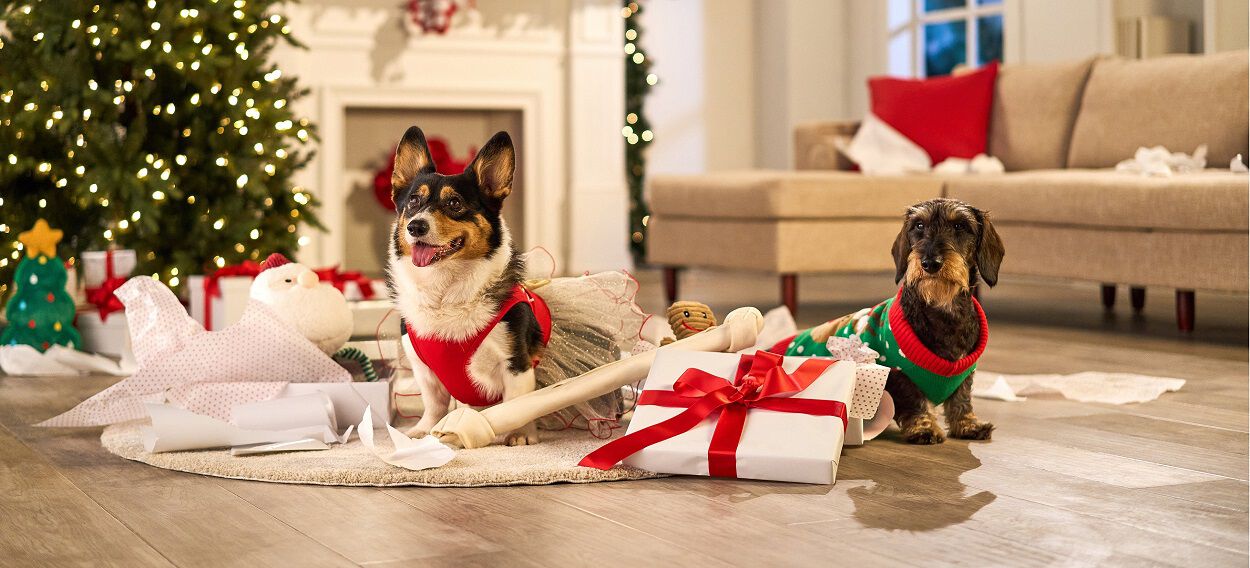 Here at Pet Supermarket, we believe every dog belongs on the Nice List. After all, your pup is with you through good times and bad, offering the love you need to get through everything the world has in store. They're part of the family, so they deserve to join in the celebration with a few great gifts.
Here's everything you need to know about holiday dog toys and how to choose a present your pet will love!
Our Favorite Holiday Dog Toys
Your dog probably has that one special toy they grab whenever it's time to play. When it's time to choose holiday toys, remember what your pet loves — that way, you can find something that might just become their new favorite.
Here are a few of our favorite Christmas dog toy options:
If your dog loves to cuddle, they might prefer a plush toy. There are plenty to choose from, but here are a few with five-star reviews at Pet Supermarket:
Chew toys come in all shapes and sizes for chewers of different strengths. Check out our favorites:
Nothing says "holiday cheer" like a squeaky toy! Here are a few your pet will love:
If you want to add a little excitement to your holiday dog toys, look no further than toys with dog treats. These toys combine snack time and playtime:
Checking a Dog Toy for Safety
As you're perusing all those options for holiday dog toys, don't forget that your pup's safety should always come first. Here are a few things to keep in mind before you buy:
Look for a good design: Even a light chewer may be able to pull off certain parts of a dog toy, like jingle bells or a poorly connected eye. Make sure you choose toys that won't come apart easily and don't have elements small enough for your dog to choke on.
Choose the right chew strength: A plush dog toy might not be a good choice for a strong chewer. Instead, find something that will stand up to tough love.
Think twice about rawhide: According to The Humane Society of the United States, it's best to talk to your vet before offering any rawhide to your pup.
Don't leave a dog unattended: Many toys are designed for supervised play. Don't leave your pooch alone with any holiday dog toys that could be torn apart, especially if they have squeakers (as these can be swallowed or choked on).
Think about kids, too: If you have little ones, make sure you choose toys that wouldn't be dangerous if those tiny fingers got ahold of them. That also means you should regularly check chewy toys for sharp edges made by your dog's teeth, as this can hurt your pup's mouth, your kid's hands and even your feet if you step on them.
Don't Forget the Best Gift for Your Dog
It's easy to get caught up in the holiday spirit, especially when you have so many dog toy options to choose from. However, it's important to remember one big thing: Every dog's favorite gift is getting to spend time with their owner!
Whether you have time off for the holiday season or are just enjoying a few winter weekends, make sure to prioritize your pup. Here are a few things you can do to make your dog feel especially loved this year:
Spend a little extra time on grooming: Gather up your dog supplies and give your pooch the spa (or spaw!) day they deserve.
Play with that new dog toy: When your dog unwraps their holiday present, you might be tempted to spend the next 20 minutes with your camera. Just remember, your dog will definitely want you to play — so try fetch, tug-of-war and other favorite games.
Offer holiday treats: It's not just humans who love to eat great food during the winter months. Your pup will love holiday dog treats to go along with their new toy!
Get Holiday Ready at Pet Supermarket
As you do your holiday shopping, don't forget a pet toy or two (or even ten!). Your pup has been good all year — they deserve something special to help every day feel like Christmas morning.
Of course, there are probably plenty of other people and pets on your list. At Pet Supermarket, we have everything you need — including gifts for dog lovers, cat toy options, new tank decorations for your fish and even some holiday favorites for reptiles and small pets.
Stop by your local Pet Supermarket for help getting holiday ready this season!
It's never too early to start Pawliday shopping. From pets to pet lovers, Pet Supermarket has a gift for everyone on your list!
12 Tips for Keeping Your Dog Safe During the Holidays
Pull out the decorations — the holiday season is upon us! Check out these tips for keeping your dog safe during the holidays (and all year round, too).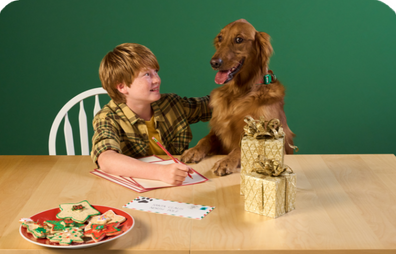 Holiday Dog Treats Your Pooch Will Love
Holiday dog treats are a great way to make the season special for your furry friend. Here are a few of our favorites (and some other fun snack ideas, too).