Litter Genie
Litter Disposal System Refill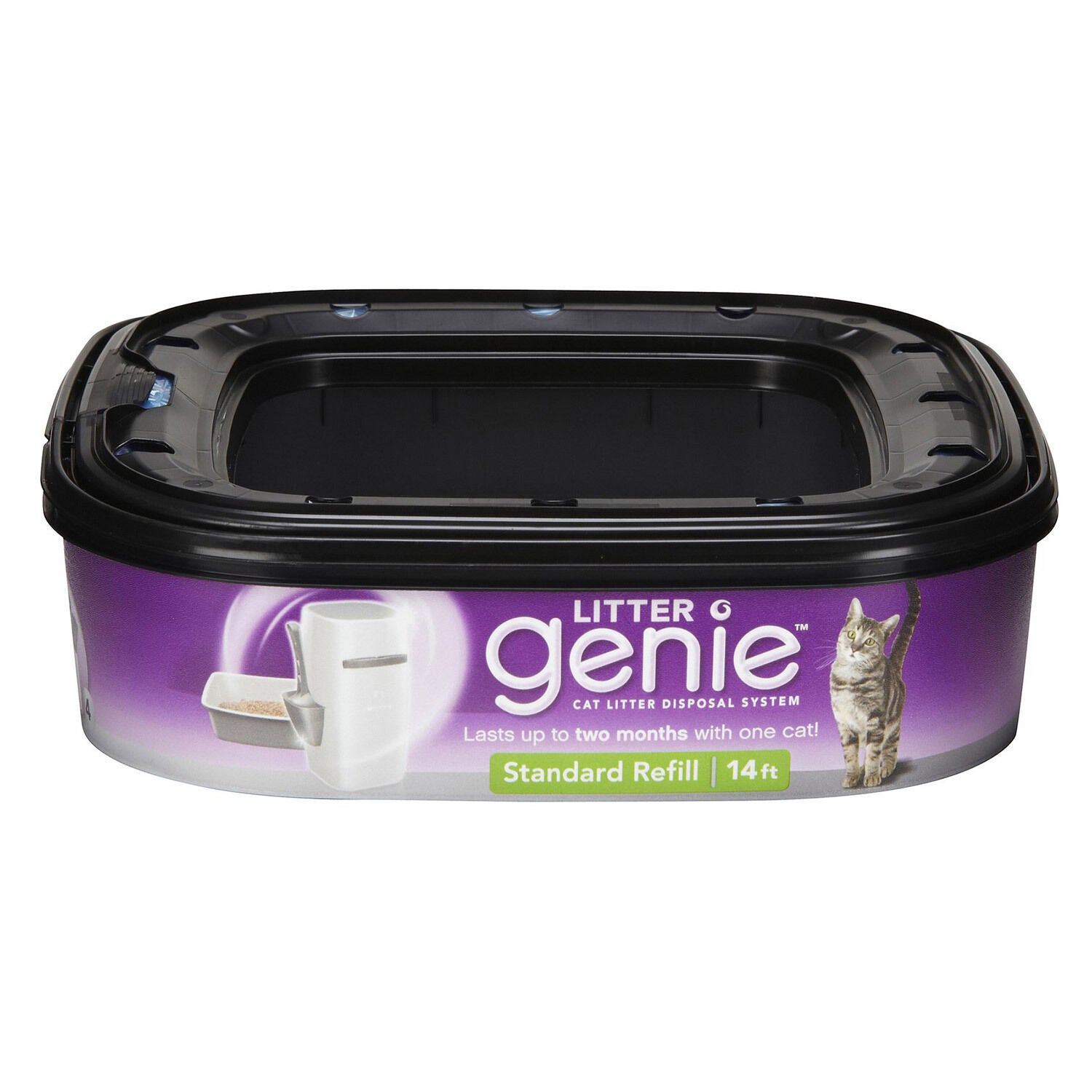 Save 30% off today's order with AutoShip and 5% off future orders
Save BIG on your first order and 5% on future orders when you sign up for AutoShip & Save! Discount will be reflected in checkout.
FREE shipping on orders over $49
---
Product Description
Litter Genie Refills put seven layers of powerful protection between stinky cat litter and your nose. These easy-to-insert refills contain seven-layer bags with barrier technology to lock in odor and germs.
---
---
Product Description
Litter Genie Refills put seven layers of powerful protection between stinky cat litter and your nose. These easy-to-insert refills contain seven-layer bags with barrier technology to lock in odor and germs.
Rated

3

out of

5
by
Tango
from
Biodegradable? Cost of refill bags?
Living in Ontario we have green bins that animal waste should be added into for garbage collection to help reduce garbage waste. Our garbage is collected bi-weekly, recycles go out weekly. If your bags were Biodegradable everything could just be put into the green bin with other household waste. Hard to bring myself dumping plastic that will take years to break down into the garbage. Biodegradable bags are used for the recycle bins maybe your product could be made the same materials. The thought of using your bags for the covienience with scooping then to dump the bags into newspaper to throw into the green bins is time consuming and a kinda gross!
Date published: 2017-09-20
Rated

1

out of

5
by
TeddyLover
from
They Did Not Like My Review
Submitted a review on the Litter Genie refills. They say it did not meet their "guidelines" for the site! Absolutely no obscenities and not a single word that was not true about the problems that I have been having with this product. Makes me not want to do business with these people. Instead of correcting the problem, they just want to sweep unflattering reviews under the rug. Make me wonder just how many of the 1 star reviews have actually been posted to the site! GET REAL FOLKS! YOU HAVE A GOOD PRODUCT HERE, BUT IT NEEDS WORK. Meanwhile, no one will probably EVER see this review. Way too much honesty.
Date published: 2015-08-05
Rated

1

out of

5
by
Marshall
from
Terrible Quality Control
I had been purchasing litter genie refills for nearly a year and finally had to switch to a competitor because of the complete lack of quality control. At minimum 25% of the refills have both ends of the plastc buried so deep in the folds that ot literally takes removing all of the plastic to locate one side. There is no putting that plastic back in, and results in a considerable waste of money. I would use this product if I could ever count on refills not having to be thrown away due to inept packing. Be warned that these will result in you figuratively throwing money away due to poor standards on the part of the company.
Date published: 2019-04-01
Rated

5

out of

5
by
llhub
from
Genie great refills need improvement
We really love this litter genie , however I am not so happy with the bag refills. I have been looking for a support forum and cannot find a contact us port, two of the refills have "Double bagged" at the start after removing the plastic seal. and the bags ejecting more than you need. the genie is a GREAT item but need more QA on the refills.
Date published: 2015-03-19
Rated

1

out of

5
by
rbc1
from
Frustrating to find the end of the bag.
Overall, the Litter Genie system is ideal -- except for the refills. Twice I've had to throw away a perfectly new refill because I can't find the end. It has caused immense frustration, knowing how much I spent. It's gotten to a point that I've had to ask my partner to open up all the refills for me in advance so I don't collapse in frustration. My partner wasn't around this time, and I needed to open up a refill, and lo and behold, six feet of plastic were loosened and still no end. Some indication on where to find an end would be so helpful, and would prevent me from throwing this product against the floor.
Date published: 2019-01-07
Rated

2

out of

5
by
yoyosc
from
Where are refills for the Litter Genie Plus???
I have a standard size Litter Genie, but with 2 large Maine Coon cats, the capacity was way too small. So I want to purchase a Litter Genie PLUS - but I don't see anywhere that sells larger capacity cartridges for the PLUS - even though on the packaging for the PLUS it says "Includes refill that is 30% longer lasting than the Litter Genie Standard Refill" which means they should be selling cartridges for the PLUS that are 18 feet rather than the 14 feet of the standard cartridge. Is this just an advertising ploy to get me to buy the PLUS and still have to use the small capacity cartridges???
Date published: 2015-02-06
Rated

1

out of

5
by
KCL57
from
FILM REFILLS NEED WORK
I've had my Genie for ages. Worked great until recently. The last FOUR refills I've purchased have been awful, the "END" and the striped "TIME TO CHANGE THE BAG" part have been together....all the way inside the bag. What's up with THAT? This then involves pulling out the entire film length, separating the ends, and restuffing the film BACK in. Yeah. Not fun. Anyway - reading the reviews, it's sad to see that it's NOT just me. NOT good, Litter Genie folks. UNCOOL
Date published: 2015-04-15
Rated

5

out of

5
by
FiatGirl
from
Makes Litter Disposal a Breeze!
I have had my Litter Genie for about two years now and I couldn't live without it having two cats! The refills are simple to use and install and last a good long while if you shake the whole container as you dump litter into the bag so as to use up all the inner space available. In response to some of the earlier reviews regarding the difficulty of installing and getting the first bag going...well, in as long as I've been using the system, I have never had a problem, I have never wasted a bag and I get full use out of each one of them. I highly recommend this product! My only wish is that the bags were biodegradable to be more earth friendly.
Date published: 2014-08-12
bvseo_sdk, dw_cartridge, 18.2.0, p_sdk_3.2.0
CLOUD, getReviews, 8ms
reviews, product